Catch-up: early 2017 I'd bought a boat in Martinique where I worked, left it in Guadeloupe for hurricane season with a friend, become trapped there without a working engine, had faced 2 major hurricanes, had floundered around needing help from everyone, and eventually escaped my marina prison to finally get to a place where I could haul her out and do the work I needed to get back to Martinique. After ill-advisedly recruiting my delivery crew using Tinder, a slightly traumatic passage had me arriving in my new home, living a new life of lying around on beaches, drinking rum and occasionally going to work. After a bit of a push, I finally got it together to start taking command of the Anne Bonny myself and made it across the channel to a whole new country: St Lucia. After nearly sinking my boat, I was obliged to quit Martinique for the summer, but made it back for new repairs and the recruitment of a couple of awesome Cabin Boys. But my time with flesh and blood crew was coming to an end and I needed to strike out alone. I did my first single-handed sail, found a cabin boy made of plastic to join me in my adventures, and made my first tentative solo international journey.
After my first solo mission to St Lucia, I'd traipsed all the way back to my old spot at Anse Mitan. It would have made more sense to hang out with everyone else at Ste Anne, and was closer to St Lucia to boot, but my friend Rachel was holding an exhibition in Fort-de-France the following evening and I'd promised to be there. It was to feature a mixture of nude self-portraits and portraits of other women of colour she found inspiring. All our friends were supposed to be there, and it was the closest thing any of us would get to a glamorous artsy soiree in Martinique. It was hosted by the island's only arts hub, and for a brief evening it felt like being back in Europe. I often say that one of the things I find relaxing about Martinique is the limited number of things you can do in your free time – like going to the beach, hiking, drinking with your friends, going to the beach, doing a water sport, or going to the beach. Definitely no choice paralysis. But I did miss my past life as part of a vibrant bohemian arts scene, and Rachel's vernissage managed to bring all of that back for one night.
I showed up wearing something not remotely stylish enough, feeling windswept and sunburnt. I thought I carried a certain aura now I was an international solo sailor – the spirit of an adventurer, wild and unpredictable and, of course, interesting. It turned out that no-one had really noticed I'd left, and were more focussed this evening on how best to sneak their illicit BYOB wine and looking at pictures of Rachel naked. Also, thanks to Rachel and Mme Ching regaling everyone hilariously with our traumatic misadventure, nobody thought I was that great a sailor anyway. But it didn't matter. This return to civilisation was just a brief interlude, and soon I'd be off on the Real Voyage. I managed to say goodbye properly to my Cabin Boys, a little bit sad that I couldn't take them with me, but definitely excited for the challenge that not having them offered. Labrador Eyebrows, in fact, had started working as a cook for one of the catamaran charter companies based out of Marin and his route meant that, if we timed things right, we could meet up in the Grenadines.
Back at the bateau the next day, I nursed a hangover and examined my ripped sails. Captain Salsa had moved his boat from Sainte Anne to park just round the corner from me. Non-French folks never come out to my neck of the woods, but he assured me it wasn't because he wanted to see me. It was more convenient for the airport etc etc, and his girlfriend was arriving imminently. While we waited for her, he brought some fancy sail tape over and showed me how to patch up the hole in my sails. He inspected their sorry condition and promptly gave me the rest of his stock. I was going to need it (not an encouraging thought). When Ms Salsa had arrived and slept a bit, the two of them came over with a new project: to set up my Navik windvane self-steering. It had been one of the selling points M. M—– had boasted about when he was persuading me to take on his shitty wreck of a bateau, but so far I hadn't worked out how to install or use it. Captain Salsa was over the moon about the device. Back in his youth when he sailed normal-sized boats instead of luxury charter monsters, he had this exact model. It's a genius piece of technology, he informed me. Using no power at all, it could steer your boat for you on a set course according to the direction of the wind. You just had to be able to set it up and adjust it properly. These things could take you for thousands of miles with very little need to touch it. It'll free up your whole life. I was really hoping so, because so far everyone thought I was an idiot for being so glued to my helm.
We dug all the pieces out from the impenetrable mess-chasm that is Annie B's interior and Capt Salsa set about assembling my new helmsman. I heard a small splosh. What was that? ….Oh, it's not important, he said. I can't remember having one and mine worked fine. He'd already been diving for other larger things he'd dropped in the water by this time, but we didn't have much good daylight left and the chances of finding a small thing deep down on the littered seabed were quite small. I hoped he was right when he said I wouldn't need it, whatever it was. With the device properly installed, and some steering cords he'd gifted me, we all went out for a spin on my new improved bateau. As we glided across the bay, it became clear that in order to use my self-steering, I would have to climb out of my cockpit and dangle myself over the stern of the boat. Easy! Capt Salsa declared. But it'll probably take a bit of practise. His face was a mask of pure joy at returning to the more basic life of small boat tiller-sailing. His girlfriend, who hates boats when they're moving, declared that yes, this kind of sailing was practically enjoyable. You've got a good boat, Capt Salsa told me. Just hearing that relaxed me a lot in the face of my upcoming solo mission. The amount of people in the past who had told me Annie B was a piece of shit had really dented my confidence in her ability to get me anywhere without killing myself. But maybe they'd been wrong. Or maybe the amount of maintenance and repair work I'd done on her since I bought her had done the trick.
It was the end of January 2019, and it was time to get a move on. Hanging out with the Salsas was losing its charm (there's only so much time I can bear third-wheeling a freshly reunited couple) and my land friends were all busy with work and boring land-based things. My birthday was just a few days away, but the idea of having to organise a celebration for myself felt like too much bother. Much better to use the excuse of being at sea. I arose bright and early, and picked up my anchor. From all this anchor-hauling by hand (no of course I didn't have an electric windlass), I was actually getting some muscles. The Salsas waved me off, and I motored away towards St Lucia. This wasn't a practise run any more. I didn't have a boat buddy, and I didn't particularly have a schedule. This was where my adventure actually began.
The morning was warm (of course) and the breeze slight. I relaxed, dodging the usual boat traps, and listened to music in my headphones. I felt really damned good. As I turned my usual 90 degrees near the Rocher du Diamant and set a course to Rodney Bay, I glanced back over my shoulder at the Navik. No time like the present to give it a shot. It wasn't much use for coastal sailing since the wind would change so often, but once you reach the channels between the islands, the wind comes from a regular direction and your course should be straight. I made sure I was clipped on to the strong-point in the cockpit, and inched out onto the transom. I felt like my sails were pretty well-trimmed according to the wind, but the stability of my boat meant that if you take you hand off the tiller for more than 10 seconds, you go off course. So my manoeuvre was awkward. I had to sit on the rough swim platform I'd constructed on top of the Navik support, leaning back to yank the tiller every few seconds to keep us on course and stop us accidentally tacking. Then I rigged the elastics between the Navik and the tiller, and lowered the Navik's rudder into the water. It was immediately buffeted away by the waves, and I had to struggle to get it in place and the delicate control system activated.
In short, it took ages, and all the while I was precariously perched off the back of my boat, obliged to turn and reach out practically on my back to hold us on course until I managed to regulate the Navik and the tiller so that they were working together. But eventually I had it, and I climbed back into the cockpit to find that I could just chill, without touching any of my steering apparatus. This was the life! It may have taken me half an hour, and made me feel a bit seasick, but my reward would be a miniature snooze and the freedom to use my actual toilet if I needed to. I think I managed to relax for about 20 minutes (just enough time to snooze the seasickness away) when a change in the movement of the boat snapped me to attention. I opened my eyes. We were about to gybe. Shit, I undid the elastics and grabbed control of the helm, bringing us sharply back on course. How had we wandered so far away? I glanced back at the Navik and saw its rudder trailing in the water, bouncing in the waves, no longer connected to the system. Damn. After a few minutes I braved heading back to the swim platform and tried reconnecting it all, but with the force of the water and the boat constantly rearing off course, it was impossible to reattach. I climbed back into the cockpit and thought for a few moments. I didn't like the way the rudder was bouncing along like that. It didn't feel like it was good for the system. I was feeling sick again and didn't really want to, but I knew Captain Salsa would mock me if I didn't at least try to use the Navik properly. I was in the middle of the channel, there was no-one around so I had loads of sea-room. I'd never done a heave-to before, but I understood it was a good way to effectively stop your boat and deal with things.
I turned my boat to tack and allowed the genoa to flap to the other side without adjusting its sheets. Then I tied off the tiller hard-over and crawled back to the swim platform. I had no idea how M. M—– had realistically used this system. Maybe with two of them on the boat it was a whole different game. Being hove-to did nothing for my sense of security. It still felt like we were sailing along and I was still having to wrestle with the Navik's rudder, which just didn't want to reconnect with the rest of the device. I was supposed to have bought myself time, but sitting out the back of the boat and being tossed around like that, I had a strong suspicion that whatever I'd tried hadn't worked and I didn't feel like I had given myself much of a break to sort things out. I felt uneasy and unsafe. But finally, I managed to heave on the rudder and get it reconnected. With relief I climbed back into the cockpit and untied the tiller, getting us back on course. It took a while to get the Navik set up again – the same balancing act that was making me feel iller and tiring me out. I think it held us on course for 10 minutes this time, before once again we were about to gybe and the rudder was bouncing out the back, unattached. I gave up. I'd tried, and I couldn't make the damned Navik hold itself together. Maybe that piece Captain Salsa had dropped in the sea really had been important. I disconnected everything and took back control of the helm. I didn't need this kind of hassle. It was nicer to steer my own boat anyway, feel the resistance of the waves against the rudder, and the power of the wind – all through your tiller arm. Who needed self-steering?
I spent the night in Rodney Bay, feeling exhausted from all the time spent messing around with the Navik, but triumphant that I'd made the first waypoint towards my destination: Bequia. I'd been to the island a few times by now, so it felt like a good starting point. If I had a real autopilot, I'd go direct (although realistically I probably didn't have the stamina to sail nonstop just yet). But as things were, I'd planned a few strategic stops – hopefully in the right places to make the most of my maximum sailing time (during the daylight – about 12 hours) without exhausting myself. Because I wasn't going ashore, I didn't check in at St Lucia. After Rodney Bay I cruised gently past the island to the most southerly mooring at Piton. The weather was glorious and when I arrived, some locals tied me up to a buoy in one of the most beautiful bays I've ever visited, saying I could moor for free on my way back up if I wanted, because they were so impressed by me being a girl on my own (Caribbean men never miss a chance to chat a woman up, no matter the circumstances).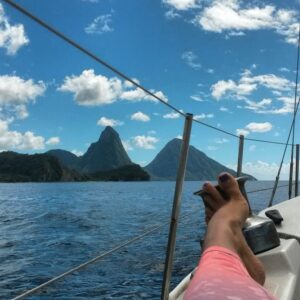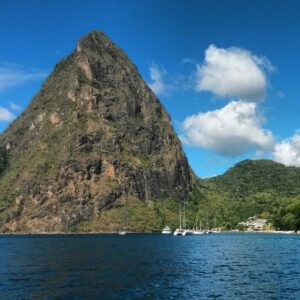 The next day was my 33rd birthday, and it was due to be my longest sail yet. Bequia was the first island you came to after St Vincent – which was large but necessary to pass. I wasn't keen to stop there, as it had a reputation for being a bit murdery and nearly everyone I'd spoken to had warned me not to. All in all, with an average speed of 5kts (if I was lucky), I should make Admiralty Bay in 10 hours. With only 12 hours available daylight, I needed to leave promptly at dawn to allow me some wiggle-room. I'm not good at getting out of bed, so suffice to say I was late leaving. But it was my birthday and I couldn't think of a better celebration than to spend it doing my longest solo voyage yet. A good start to the new birth year.
I tried to use the Navik again, but pretty soon I experienced the same problem as before and gave up, disheartened. I settled into a long stint at the helm. There wasn't much wind which made the going even slower, but I put on some music and relaxed into it. Just being there – just me and the waves – was the greatest feeling on earth. I sang to myself, I watched the birds, and I found my rhythm with the movement of the water. One of my biggest issues was not being able to leave the helm to use the toilet, and with the sun beating down on my exposed shelterless cockpit, I really needed to keep my fluids up. After a few hours it was unavoidable, and I considered my options. I was wearing UV leggings and strapped into a harness and life jacket. I had brought a she-wee (one of those great devices that lets a woman imagine she has a penis), but the harness and the leggings themselves blocked me being able to use it as it was supposed to be. Crawling about the cockpit, trying to keep one hand on the tiller at all times to keep us on course, I struggled to find a reasonable solution. Then I saw the holes in the cockpit floor. I mean, I was alone, right? I could do what I wanted in my own boat and it was getting to the point of being an emergency. I had to take off the life jacket and harness to be able to get free enough of my leggings to go. Then came the difficult part. We were on a reasonable heel and I needed to wedge myself into the space between the cockpit benches, whilst keeping one hand on the tiller (now at chest level) to maintain a course at all times. I tried to pee into the hole, and hurriedly whisked my snack bag out of the way as the liquid trickled everywhere but the hole.
I was disgusting, but it didn't matter. There was no-one there to judge me and I could wash everything down with a couple of buckets of seawater when I was anchored. Urination manoeuvre successful. My technique wasn't elegant, but it was safe (unlike the Poet's preferred 'danger pee' off the back of the swim platform).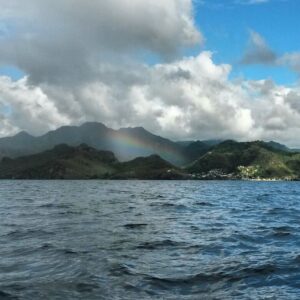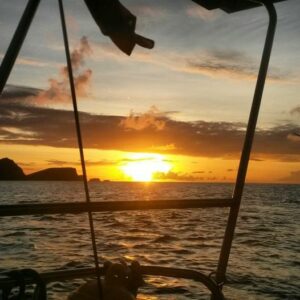 It was sunset when I motored into Admiralty Bay at Bequia, and the day had been long and challenging. As I pottered around getting my anchor ready and looking for a good place to drop it, I saw a drone hovering overhead, observing in a way that couldn't fail to look sinister. Did someone get a kick out of watching a girl trying to anchor? I gave it the finger, and then spent the next few days paranoid that it had been a new technological development from the Port Authority and they were going to be suspicious of me for not checking in until a couple of days after I arrived (weekend 'overtime' fees are extortionate). Sticking with familiar territories, I found a spot right next to Captain Imagine of the Swedish Boat Mafia. As I've mentioned in a previous post, he is a solo sailor approaching his 70s and having sailed together in the past, we had the tendency to get on each other's nerves. But he was over the moon to see me, and once I'd hooked in and cleaned myself (and my cockpit) up, he took me ashore to celebrate my birthday.
I always think of this passage as my 'coming of age' moment as a sailor. Before that, I had simply been a person with a boat and a shaky knowledge of how to take it places. But I never really ventured far and I usually had help. Now I had gone further than the next island, and I was autonomous. I still hadn't taken many big risks (maybe it's not the best to seek them out anyway), but I now felt more confident that I could take my place among the real sailors. I was one of them now.