Marco and I had a car, and I was driving him round the island. He wasn't sure about my driving style, but I was older than him and so the hire for me as pilot had been cheaper. It was hard to get lost on an island with so few roads, but we were managing it anyway. I was avoiding visiting Nugent places, especially the House, which was looming on my metaphorical horizon. But we could go to cool places like historic Nelson's Dockyard (where I could collect my newly-repaired sail), and the famous Shirley Heights lookout. But let's backtrack a bit…. Marco was Erika's head chef, and she had set us up as tourist buddies. I was over buses. I wanted the freedom to go where I wanted without having to think too hard (or return to that tedious self-consciousness I mentioned in the last post). Erika felt that Marco hadn't been out and seen enough of the island since he'd arrived. Why didn't we split a car hire between us? He had a day off…
I was vaguely aware that Erika might be trying a bit of matchmaking with me and Marco, but I was genuinely pleased to be spending the day with him for more innocent reasons: I wanted to pick his brains. I've already mentioned that I was on the road to becoming a charter boat cook by this point. I'd done the French STCW (firefighting, sea survival, first aid all obligatory for working on a commercial vessel) and had had the job interview. I'd never really considered working in the marine industry before, and to be honest, before taking the STCW I hadn't even thought of boat chef as a 'marine industry' job. I just loved cooking, and being paid to do it – on boats en plus – was an exciting novelty. I was doing it all pretty much on a whim (and admittedly, though I don't think I went into this previously, it was originally to get the Pole Emploi off my back while I was claiming unemployment benefits). I saw it as a handy little job to give me a break from teaching English and something to do at the end of my Anne Bonny pilgrimage when I needed to sell her and plan a return to 'real life' (or somesuch nonsense). The Pole Emploi had paid for my essential bit of STCW certification (normally very expensive), so it didn't feel like a massive life commitment. I didn't realise I was accidentally falling into a new career. Because, if you know anything about my life now, you'll also know that the 'charter boat cook' gig wasn't just a temporary phase to get me through the end of my Martinique adventure. It catapulted me quite unexpectedly into a whole new world. Spoilers, I'm now a professional Skipper. (And I am eternally grateful to the French Administration, because not only did they effectively sponsor me a 3-year paid Caribbean holiday, along with everything that comes in this story, they also paid for my STCW which gave me a new career. Plus now I also speak French, so I'm a real International. The government of France changed my life, in so many ways. If I'd managed to stay longer, maybe they would even have solved Brexit for me. But that's a whine for another time.)
Marco was a highly talented (if confusingly vegan – considering the milky meaty delicacies he produced in the kitchen) chef and he agreed to pass on some of his secrets. As we toured the island, he hatched a plan for me to join him in the kitchen the next day. When he asked Erika about it, he had her full support. She even donated ingredients. A French chef friend had already dedicated a whole dinner party evening for me to learn and practice cooking fancy French things for the Sainte Losers. Now Marco was taking things to the next level. We met early in the morning, and I realised he was taking a big chunk out of his rest time for me, which was touchingly kind. He wanted to start me off on some basics that would be simple and impressive to prepare on board. Tiramisu the way Italians really make it was our first port of call, and I was feeling pretty sick after wolfing a whole glass of it down first thing in the day. The was a mistake. I should have paced myself. Next came pannacotta and caramel, which I also ate (regretting the tiramisu). Erika had given him permission to use one of their tuna steaks, so he showed me how to sear it beautifully, make a sauce, and serve with wilted spinach. I realised this was all for me to eat, him being a vegan and all.
After that he turned to prepping the dishes for the day. When the other guys from the kitchen showed up, they involved me in layering up the aubergine parmigiana (my all-time favourite Italian dish), we made fresh pasta and gnocci, prepared the meat dish, flavoured different mashed potato with orange zest, lemon zest, and vanilla. My favourite was the beautifully simple smoky cherry tomato squid. I was genuinely in heaven. The guys were so gracious about me being there, giving me simple presentation tips and showing me how to make easy but awesome garnishes. I was really excited to become a boat cook. This day, this act of kindness on the part of all of them, was something I really appreciated, and lightened my spirits after the loneliness I'd been feeling. Erika arrived and the pressure level was hoiked up. I slipped out of the kitchen, leaving the guys to get on with their work unimpeded. I sat at a table with a drink, feeling full and contented. Then I had a message – William and Mary were coming for dinner, did I want to join? I didn't think I would be able to stuff in any more food, but how could I refuse? These guys were brilliant chat and I knew I had to leave here soon. This way I got to try the other dishes I'd had my eye on, that I'd helped prepare but not tasted. I practically had to be rolled down the dock and squeezed back into my kayak. It was hard to say goodbye. Nothing personal, though, but the clock was ticking and I had to be moving on.
Harney's Motors. I'd seen the sign as I'd squelched through the mud on my way back to the bus stop after the visit to Gunthorpes. I had been putting off contacting Mr Harney again after hearing nothing from the emails I'd sent in yearly succession, but the poster-board looming over my head had been a literal sign. And now I knew which bus I needed to take there. On my last day in Jolly Harbour, I spent the morning up to my elbows in impeller-changing (I'd been concerned about the weird behaviour of my engine on previous trips, and William had persuaded me to do something about it). Then I pulled myself together and caught the bus one last time to St John's.
The house was in an area called Scotts Hill, and I knew a bit about the history from Cousin Nick's website. Originally it had just been the house itself that had been known as Scotts Hill and had originally been built (but never used) as a girl's reformatory. Nick says it was probably built on land that had been part of the larger Nugent estates first occupied by Walter Nugent in the late 18th century, and was sold after the family had to leave the island during the occupation by the American military in WWII. E—- Harney's father (a lawyer and member of the Antiguan Legislative Assembly) had bought the house from my great-grandmother, and E—-'s car dealership now stood on the outlying part of the land still attached to the house.
It was a big social challenge for me, just turning up to someone's business unannounced (I mean, without the intent of patronising the business. Obviously I go to shops and things all the time, I'm not that much of a hermit). I tried to rehearse what I would say on the bus on the way over. I tried to imagine I was The Poet, who just wouldn't care that he was asking a weird favour – please sir, can I look at your house? I know it's the middle of the work day, but…
I wandered through the forecourt to the entrance of the dealership. Someone smiled and opened the door for me as though I was a client (despite my scruffiness). 'I'm looking for Mr Harney' I blurted out quickly, before he got the wrong idea and tried to do Customer Service on me. I was pointed towards an office further into the building and told to ask in there. I put on what I hoped was my most winning smile, took a deep breath, and approached the guy at the desk. In my email instructions from cousin Nick, I had 2 names I could try. E—- or D—- Harney. 'Could I speak to Mr or Mrs Harney?' I asked, trying to sound as though I knew them. There were a couple of people hanging about in the office, and I fought against my rising feeling of self-consciousness. Mrs Harney had just stepped out, I was told. What did I want to do? 'What about her husband?' I asked. The guy at the desk wrote down a number on a piece of paper for a Mr Barnes. Someone next to me chuckled. 'Oh right, no, I meant… What about Mr E—- Harney?' This was starting to get confusing, I tried the explanation I'd rehearsed. 'He knows my uncle' (Nick is my cousin, but since we're not in the same generation, I felt like uncle avoided more confusion), 'and I was told I would find him here.' At this point, everyone laughed. I looked around, mildly baffled. The guy at the desk's eyes flickered to the gentleman standing next to me, who stopping laughing and introduced himself as the one and the same Mr Harney. 'How can I help you?'
I explained (through what I'm sure was a gently developing blush) that I was Nick Nugent's niece, and that my grandmother Joyce had grown up in his house. The atmosphere changed. He knew immediately what I was talking about, and his smile was big and welcoming. I was flooded with relief. Everyone became more relaxed and friendly. But they continued to laugh at me because, didn't I know? Mrs Harney was his daughter, duh.
'Do you want to see the house then?' Mr Harney asked, and so I went and explained about my mission to Antigua. That I had moved to Martinique 3 years ago (had he got my email? Maybe I had the wrong address… oh right, he had got it) and I was kinda following in my grandfather Tony's footsteps by leaving Glasgow and pursuing a new life in the Caribbean. That I was trying to find out more about the grandmother I'd never met, Joyce, and that (most importantly) I had sailed here single-handed in my very own boat (please! Someone recognise my veryimpressive achievement!). He walked me to his car, and we drove up the sweeping lane to his house. I realised I had not the faintest idea of what questions I wanted to ask, now I was here. I'd just been so focussed on getting there.
The House
It was too big for them so they moved into a new bungalow in St Johns. Scotts Hill was built as a girls reformatory, but never used as such. It was taken over as an army barracks in 1905. My mother's brother Col Osbern Foster was stationed there attached to the Northumberland Fuseliers. While he was in Antigua he met and married my aunt, Monica Nugent. They were married by the Rev Shepherd and 35 years later as Dean Shepherd he married Tony and I in St Johns Cathedral.
When I was seven I started school, I traveled the 7 miles every day in a buggy. Three of us including the Groom on the front seat, and 2 of us on the rumble seat we called a dicky. It was only a box with a cushion and a rail to lean back on.
Joyce Robertson (née Nugent), Some of my Travels
I had seen a photo of the outside of the house from family records (and reproduced on Nick's website), and had also seen a more recent picture from Nick's last visit, but I still hadn't formed much of an image of it before I arrived. It wasn't much bigger than I'd thought it would be, but I was surprised by its grandeur. The Harneys had preserved the colonial style and it was like being back in the museums I'd visited, in places like Habitation Clément or Balenbouche in St Lucia. It was beautiful, and I felt like I'd been portalled back in time. Mr Harney showed me round. He was quiet and understated, which I found a little unnerving at first, but he had obvious humour and I don't think he was particularly put out by my presumptuous visit. He kindly allowed me to snap a few photos (I thought Mum would appreciate it). There were a few pictures in the dining room, connected to the history of the house. He still had an active relationship with the Nugents (most likely championed by Nick). I was embarrassed that I didn't have more questions – this was my big opportunity, and I was blowing it.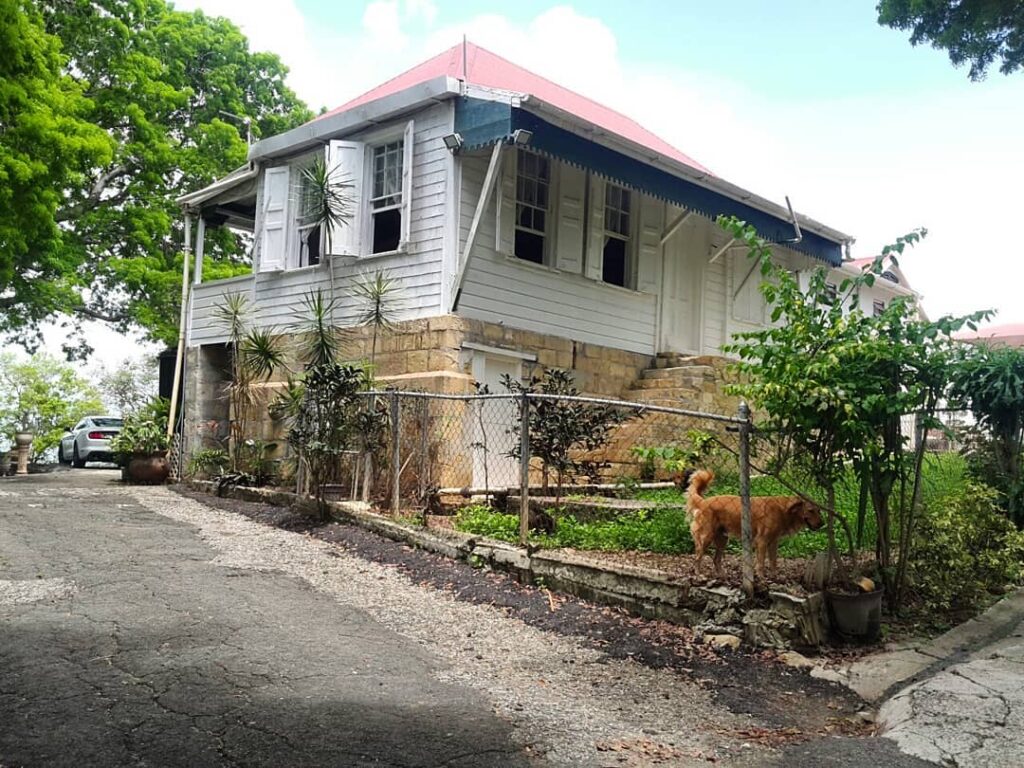 Life as a housewife till Aug 1939
Tony was working as 2nd engineer at Antigua Sugar Factor. Edward was 10 months old. We had a very nice bungalow. We had 2 servants, Daisy the house maid & Priscilla the cook. We belonged to 2 clubs, the Tennis club was my favourite. There were parties & picnics whenever anyone had a birthday.
Sundays everyone went to the 9am sung communion service, after church we got in our cars and raced to the beach at Fort James, there was a large hall where we went after our bathe, to dance play cards or just natter. We all went home to lunch. We went to one of the big houses for tea. Several people kept an open at home a Sunday afternoon. 1st Sunday of the month we always went to Mrs Bob Goodwin, tea was served to about half the white population of the island. People roamed the lovely gardens, played bridge table tennis or billiards or played other card games, we could stay on, there were plenty of sandwiches and drinks. We could dance to the gramophone or piano. It was a wonderful life we were very well off. Tony was getting £20 a month and sending £60 a year home to his mother. Eggs were 3d a dozen. Bananas 6 for a 1d avocado pears 1d each. Daisy's wages 4/6 a week plus 1lb sugar & a large loaf 1d. Priscilla got 5/-.
Joyce Robertson (née Nugent), Some of my Travels
Mr Harney had been born in this house, and so like my grandmother had also grown up here. But although the look of the place had been kept traditional, the house had moved on and moulded itself to its new owners. The grounds were filled with guinea-fowl, ducks and chickens. There were 8 dogs, 2 horses and 2 aviaries of tweeting birds. His wife (an Englishwoman) was somewhat of an agriculturalist, he explained.
We headed back to his fancy car and cruised back down to the office. D—- had arrived, so he introduced us (I blushed again at my mistake of assuming this was his wife). She was polite and friendly too, and they set about finding someone who could drive me back to the main bus station (of course you shouldn't mess with the local buses to get back there yourself, don't be silly). No-one was available, so he was leading me back to his car to take me himself, when his wife arrived home. So we followed her back up to the house to make an introduction. She was enthusiastic and charming, and we probably could have stayed chatting for ages. If only I'd arranged this visit in advance, they bemoaned. If my timing had been better I could have spent the afternoon with her. But oh well, I was welcome back any time.
I felt buoyant, taking the bus back to Jolly Harbour. It had all worked out in the end, and everyone had been so nice! The house had been the best sort of museum, and though I was sad I hadn't been able to take them up on their offer to come back later in the week, I was sure this wouldn't be my last visit to the island.
The next morning I motored away from Jolly Harbour towards Falmouth and English Harbour, and for the last few days in Antigua I lingered round the deserted historic Nelson's Dockyard. I was trying to slot the remaining pieces of the Antiguan colonial jigsaw puzzle together in my mind, getting a picture of what this place had been like when my ancestors had arrived. The Dockyard is pretty special: well-preserved 18th century dock buildings, with modern amenities inside (sail-maker, chandlery, fancy pubs and restaurants, Customs office, toilet blocks). You could certainly imagine it as a bustling colonial port, of the ilk you see in Pirates of the Caribbean. I went to the museum for another session of plaque-reading (and was beginning to realise that I'm terrible at museums). I hiked out of the fort towards the canon-topped outer defences of the harbour. I tried to imagine the place during Historic Times, or even during high season – both would have made a distinct change from this familiar tumbleweed. I gazed out to sea, watching a couple of boats bob by, knowing I had to get back out there very soon.
I couldn't leave and put the Nugents to bed, however, without addressing the big S-word, which is the first thing that springs to mind if you mention (as a white person) your family-ties in the Caribbean. Were your ancestors slaver-owners? (We can't forget that this quaint historic dockyard, once functioning to maintain British warships, was built by around 700 slaves.) I've tried to piece things together from what I understand of Nugent activites in Antigua. Walter, the first Nugent, must have obviously been a landowner, but he is recorded as being a soldier – a militia man. I'm not sure whether he was planting sugar on his land (originally known as 'Nugents'), or if this came later. His son Oliver, however, is credited in some sources as being the builder of the manor house, Clare Hall, on his father's land, which was later a renowned sugar plantation. He was born in 1737, and for sure there would have been a big enslaved workforce on plantations at that time. For a bit of historical context, this article in the Smithsonian Magazine describes the period and conditions in the context of a supposed uprising conspiracy in 1736. At this time, slaves apparently made up 85% of the island's population (24,000 of them).
This website details the different hands the estate was apparently passed between – showing Clare Hall moving out of Nugent control after 1765 to the in-laws. Oliver's son, Dr Nicholas Nugent, either bought back or re-inherited the estate from his cousin in 1829, not long before emancipation in 1834. He had been one of the primary movers and shakers of the abolitionist movement, but, along with his ownership of Clare Hall at this time, was also manager of Lyon's Estate (which is mentioned in the records of compensation claims), another big sugar plantation. We mostly know about the details of enslaved people on these estates because of the claims for compensation that came after they had been awarded their freedom (and are detailed by the Legacies of British Slavery project at UCL). For example, Dr Nicholas is listed as being awarded £2884 17s 8d for 178 enslaved people from Clare Hall (a different page of the same website suggests: 'With the abolishment of slavery by the British Parliament in 1833, a legacy payment of £4,442. 2s. 0p. (Antigua 101) was made to the owners of Clare Hall for granting freedom to 296 enslaved', so I am very confused). He is also listed in association with the compensation claim of £4236 3s 7d for 274 enslaved people at Lyon's Estate. Nick writes 'In abolishing slavery at one go rather than gradually he and fellow assembly members hoped to be released from an unpopular tax imposed on landowners who had sworn allegiance to France during a brief period of French occupation.' Antigua is proud of being the first British colony to abolish slavery, but there were always undercurrents of self-interest in these moves.
Over the history of the Clare Hall (or Skerretts, as it was also known) estate relevant to the Nugents, UCL has these numbers of enslaved people recorded: 1817 – 352 people; 1821 – 244; 1828 – 322; 1832 – 310. Why do I care about the numbers? Because it haunted me. Being able to get a figure of 'how many enslaved people did my ancestors profit from' provided some kind of tangible link to what was going on back then. These were hundreds of lives, and it's imperative not to forget them when trawling through information like 'so and so owned this estate, and so and so managed that estate'. The family remained in the sugar industry after Dr. Nicholas sold Clare Hall in 1851. His son, another Oliver Nugent, spent his early married life at the Codrington sugar plantation Betty's Hope, and then acquired Millar's Estate in 1860, where he also managed a substantial sugar production project. Last post I'd mentioned my grandfather's modern link to the 'Big Evil' of the colonial period. Digging deeper, I realise the family was in this industry much more heavily than I'd initially imagined.
Back at the anchorage, I made friends with my boat neighbours (I was getting better at this proactive friendliness game). I also managed to fill my kayak with ants, and got it sunk by a gang of local kids. I was beginning to get frustrated with my inflatable kayak. I was regretting my laziness with regards to the perfectly-serviceable dinghy. Heaving the flooded kayak on board (which still managed to be full of ants, and who got to work colonising my boat) was a mission. My planned departure date was here. I mean, I could have stayed longer, but I had run out of things to do (I know, I know, I could have gone to the family graves… maybe I should have done). I felt like I was just kicking my heels in the dust, being here for the sake of being here. Because I had waited three years to come, and had made so much effort. I questioned myself again – did I get what I came for?
This whole project was never really about revisiting my ancestral lands and rolling about in white guilt. Being able to look at that history, and then really dissect what that means in the wider cultural context here, has given me a much deeper and nuanced understanding of the Caribbean, than if I'd just rocked up here on my boat as a casual cruiser on an Atlantic circuit. I don't think I've yet expressed it successfully, or even done much more than scratch the surface of the topic, but it's a start. There's still so many places to dig – people go through whole degree/masters/PhD programmes to wrap their heads around this! But as I say, this project has never really been about this bit of the story. The story it really boils down to is about me becoming a sailor, and that story didn't finish in Antigua. The journey home threw at me my biggest trials yet.