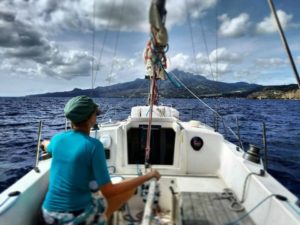 In 2016 I decided to follow in my late Grandfather's footsteps and leave Glasgow to find a new life in the Caribbean, sailing and discovering my family's roots in Antigua. I bought a boat and began a solo sailing adventure on the Anne Bonny.
The blog that follows is a story of this journey, touching on my own experiences and topics that are important to sailors and those who live in this incredible region. It's a bit hodge-podge at the start because I was trying to work out what format I wanted to present it in, and I've restarted it in long-form memoir-style more times than I'd like to admit.
This tale used to be called 'L'Ile des Revenants: Island of Returners', but lately I find that too pretentious, and have come to accept that 'Seasick and Dangerous' is probably way more accurate.
1. Introduction: Devil's End / You need a man
2. How to move to the Caribbean and get a boat
3. With great bateau comes great responsibility
4. Welcome to the Marty Party (aka How being a Language Assistant in Martinique fundamentally changed me)
5. F*** off and other things you can't say to men in the Caribbean: A Smart Girl's Survival Guide
6. There's no 'I' in sailing (a catalogue of disasters)
7. Zen and the art of Seasickness
8. Crossing the Atlantic: isolation. mental health and leadership
9. Tropical Depression (aka the things we can't control)
10. How to Survive a Hurricane
12. Don't use Tinder to recruit your crew
14. The Anne Bonny Girl's Club
21. We Don't Do That (murdering cruisers) Any More
22. French is the language of love bureaucracy (and btw you're never leaving again)
25. We're going on a Nugent Hunt
26. Did you get what you came for?
27. Motoring is not an efficient or safe form of cowardice
28. Epilogue: You're a Wizard, Harry!
Bonus: Cruising luxuries aboard Anne Bonny
Christmas Bonus: Making a classy mocktail from tea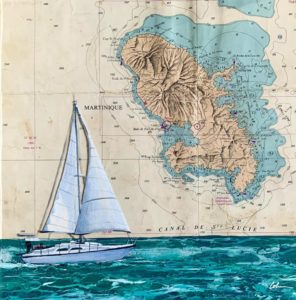 What am I doing now?
Currently I work as a professional skipper aboard a large historic sail training vessel in the south east of England. I am no longer seasick and dangerous (because I take hardcore seasickness medication and have had professional training and gained valuable confidence and experience), and I think it's safe to say this is the biggest achievement of my life.